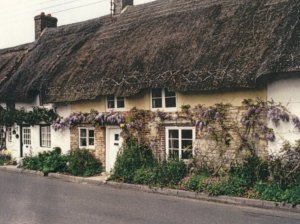 The front of the cottage.
Cer Paravel
21, High Street
Winfrith Newburgh
Dorset DT2 8JW
Sleeps 6
Ancient Thatched Cottage with long back garden
Dorchester 9 miles: Lulworth Cove 3miles
Opens onto Village Street.
Dogs permitted
No Smoking
This traditional, terraced, brick and recently thatched cottage with eyebrow dormer windows which dates back to c. 1420 was, until 300 years ago, part of a medieval homestead in which an extended family would have lived and kept their livestock. Until acquired by its current owners it was part of the Weld Estates of Lulworth Castle which own much of the land in the area.
The downs and woods which run along the coast were used by George III for hunting deer and shooting pheasant during his visits to take the air at Weymouth.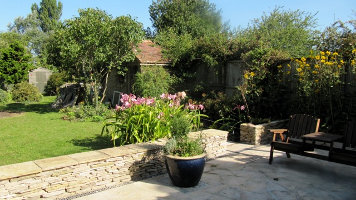 The rear of the cottage.
Accommodation
The cottage has been furnished and used as a home and sleeps six people - one bedroom with a double bed, one double room with two single beds and a hand basin facility. There is open access from the landing to a double bedded and a single bed.
Furnished with antiques in keeping with its character, there is a charming large sitting room ( 14' x 20') with inglenook fireplace at one end. Central heating keeps the general temperature comfortable. There is a television/video and radio. The spacious bathroom/WC is serviced from a multipoint heater with constant hot water. The bath has an overhead shower.
Telephone
There is no land line available.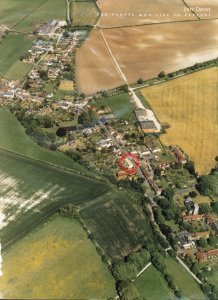 Aerial view of the cottage.
Kitchen
You will find a well equipped kitchen / dining room with a large farmhouse table and French windows opening onto the garden. Equipment includes includes an electric stove, dishwasher, washing machine, crockpot, sandwich toaster and a large deep freeze to ease domestic chores.
A1 FIRE RISK and thus it is a NO SMOKING RESIDENCE and the fire should not be left unguarded or unattended.
Fire Escape
In the unlikely event of a FIRE , escape is via access onto the roof from the back upstairs windows. A fire blanket and chemical hydrants are provided. Smoke detectors are regularly checked.
General
Except in emergencies access onto the roof from the back upstairs windows is very tempting to children. It is imperative that no one climbs out on to the tiles as the roof will be damaged.
A list of house information will be found on the kitchen door to include refuse collection, agent's contact number.
Information on emergency services, restaurants and places of interest to visit and maps of the area are kept in the mail rack. Parking is available outside the church wicket gate 50yds away.
The garden ( 20ft x 150ft ) is fully fenced and safe for children. It is largely laid to lawn with a football goal post at the lower end.. Garden furniture is provided for eating outside.